Further Update – New South Wales – COVID-19 – Retail and Other Commercial Lease Regulation
Written by Ben Malone on December 21, 2020
The Retail and Other Commercial Leases COVID-19 Regulation (No 3) 2020 (NSW) takes effect from 1 January 2021 and, in many ways, operates as an extension of the existing Covid-19 tenancy regulations but with some critical changes.
Importantly, the scope of the Regulations are now substantially narrowed and only apply to retail tenants who:
are eligible for Jobkeeper based on the new eligibility criteria from 4 January 2021 (ie regardless of previous eligibility)
had a turnover in the 2018-19 financial year of less than $5 million (previously the cap was $50 million)
Despite the title of the legislation suggesting otherwise, the new Regulations do not apply to commercial leases – however commercial tenants will still have certain rights preserved under the existing framework depending on the circumstances (eg the right to apply for mediation in the event of a dispute).
The new Regulations will expire on 28 March 2021 unless they are further extended or replaced.
Insights
"Excellence Awardee" - Boutique Firm of the Year - 2022 Australasian Law Awards
We are delighted that Massons has been selected as an "Excellence Awardee" in the category of "Boutique Firm of the Year" at the 2022 Australasian Law Awards.
Thank you to all of our wonderful clients who have supported our nomination in this category, and to our amazing lawyers and support staff for making this possible!
Wishing all the other Awardees the best of luck and looking forward to the Gala Dinner.  A night out with our team is always cause for celebration – win, lose or draw!!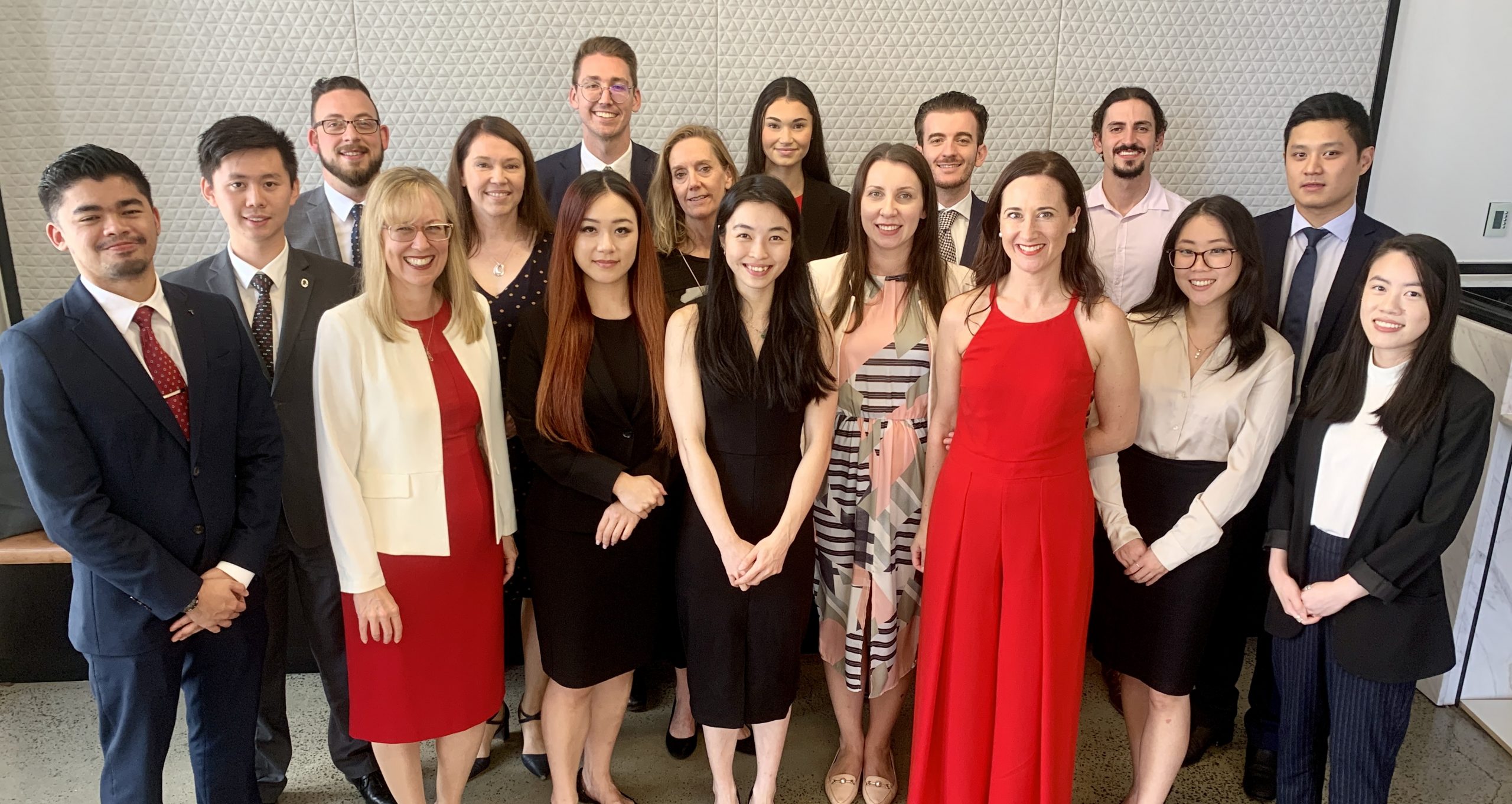 March 23, 2022
Doyle's Guide 2022
We are excited about our inclusion in Doyle's Guide for 2022 for NSW in the following categories:
Massons – Leading Property & Real Estate Law Firms
Jodie Masson – Leading Property & Real Estate Lawyers and Leading Leasing Lawyers
Leisha de Aboitiz – Leading Property & Real Estate Lawyers and Leading Leasing Lawyers
Ben Malone – Property & Real Estate Law Rising Stars
Thank you to all of our peers and wonderful clients who have helped to achieve this recognition.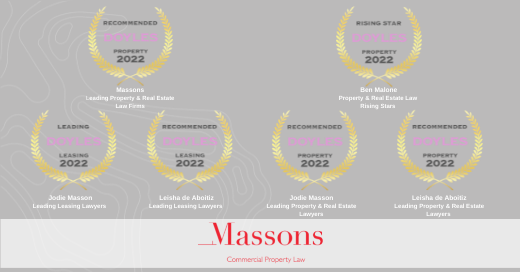 March 14, 2022
"Rising Stars" Australasian Lawyer 2022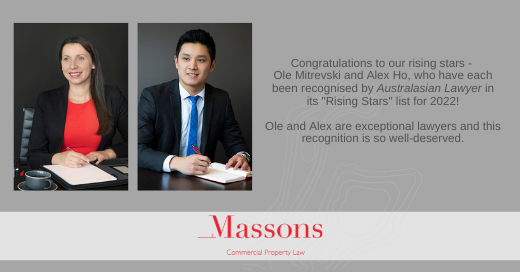 February 28, 2022
Appointment as Senior Associate
We are excited to announce the appointment of Alex Ho as a Senior Associate at Massons.  Alex started with us as a paralegal and has achieved this milestone in record time due to his hard work, his ability to develop and sustain fantastic relationships with clients, his engagement in constantly seeking to improve himself and others in equal measure, and his absolutely infectious enthusiasm.  We couldn't be prouder!  Congratulations Alex!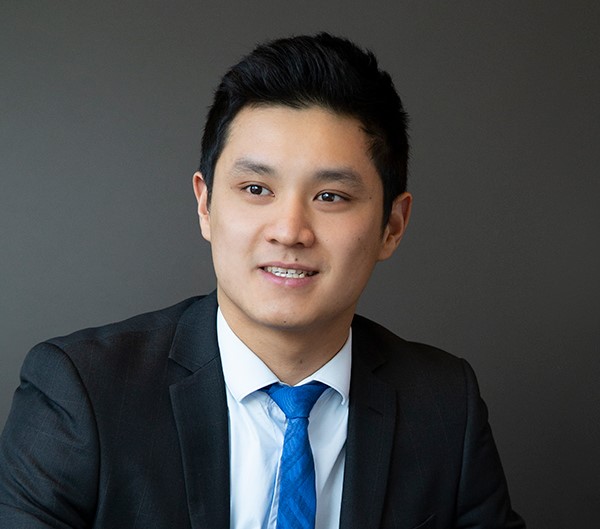 January 5, 2022
Australian Lawyer's Elite Women List 2021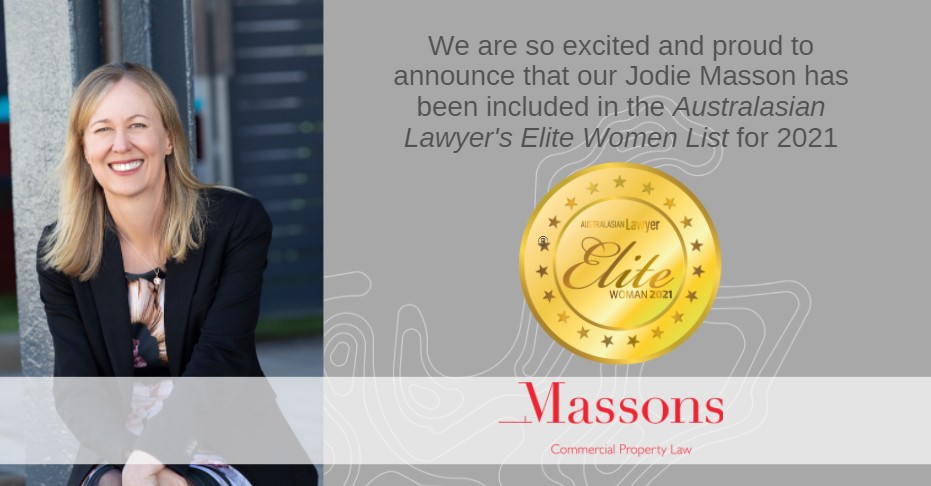 December 8, 2021
We are excited to have been named as finalists in several categories in the Lawyers Weekly "Women in Law Awards 2021":
– Massons – "Boutique Diversity Law Firm of the Year"
– Ole Mitrevski – "Senior Associate of the Year – SME Law"
– Michelle Mon – "Rising Star of the Year – SME Law"
– Nicole Caryofyllis – "Legal Support Professional of the Year"
We are proud to be recognised as a Firm which supports diversity in the workplace and are humbled to be included in the list of finalists in these categories. Win or lose, we are looking forward to celebrating the Awards night and would love to thank our peers and clients who have helped us achieve this recognition.
October 12, 2021