Property & Real Estate Law Rising Stars - Doyle's Guide 2019
We are absolutely delighted to see our Ben Malone recognised in Doyles Guide 2019 in the category of "Property & Real Estate Law Rising Stars – Australia"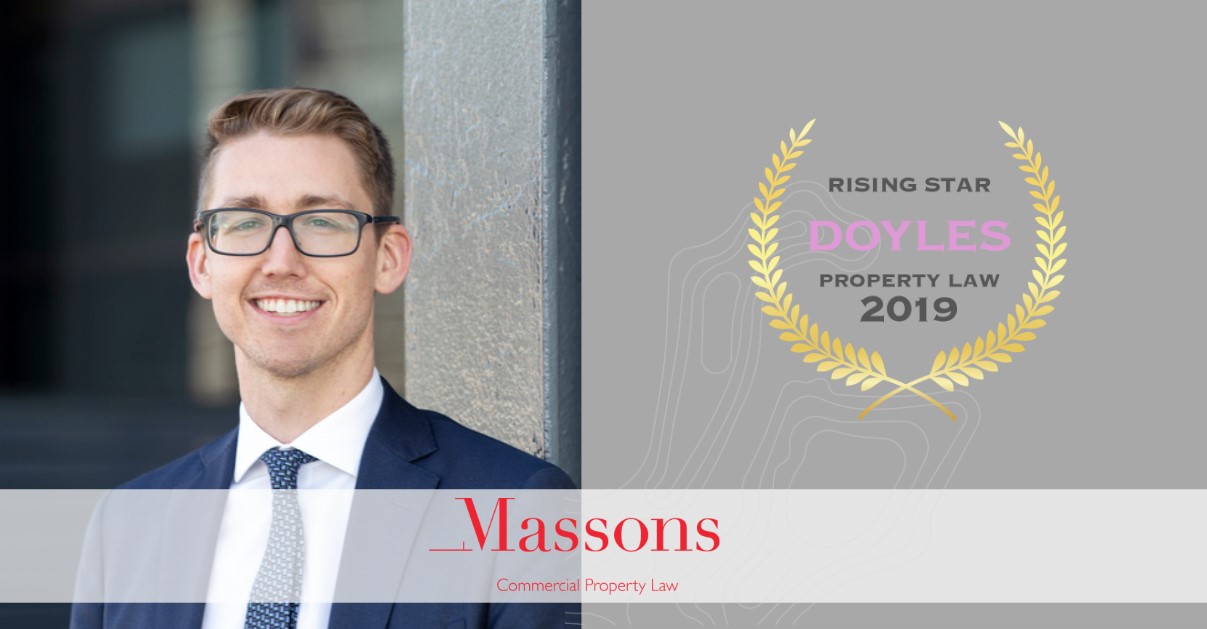 June 6, 2019
Doyle's Guide 2019
We are excited that Massons has been recognised once again (and moved up a tier in rankings) in Doyle's Guide 2019 in the category of "Leading Property & Real Estate Law Firms – NSW". We are thrilled to be recognised by our peers for doing what we love to do! To add to our excitement, our Jodie Masson and Leisha de Aboitiz have both been recommended in the category of "Leading Property & Real Estate Lawyers – NSW" and Jodie has also been recommended in the category of "Leading Leasing Lawyers – NSW". What an amazing week – we haven't stopped smiling!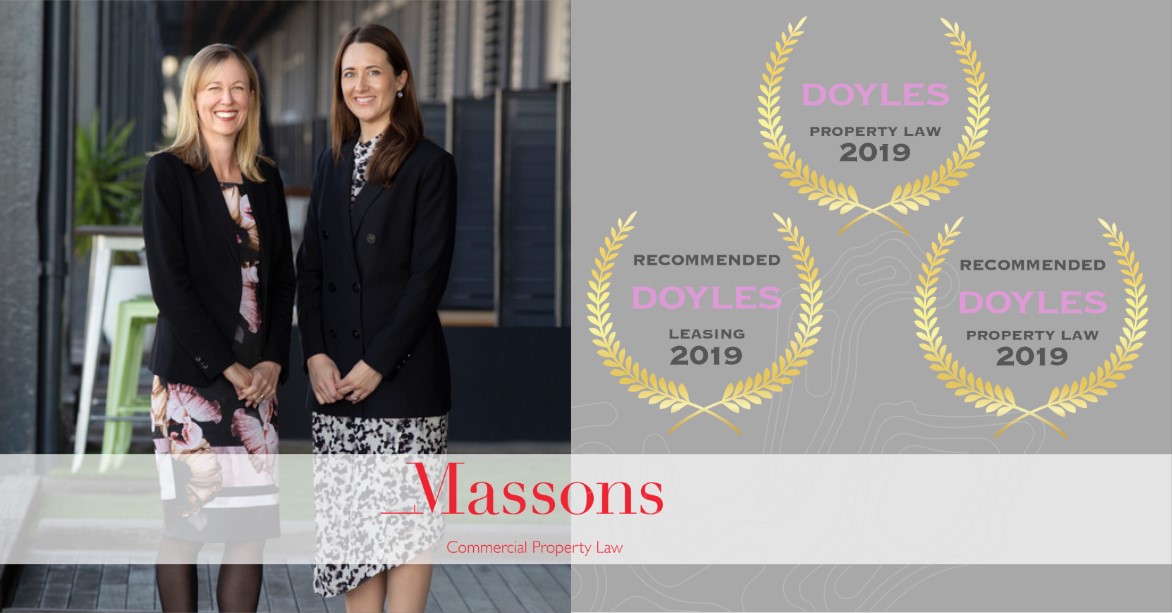 May 15, 2019
Acquisition of iconic heritage listed Customs House
Massons was delighted to work with the exceptional team at the City of Sydney in its recent acquisition of the iconic heritage listed Customs House from The Commonwealth of Australia
https://news.cityofsydney.nsw.gov.au/media-releases/new-chapter-for-customs-house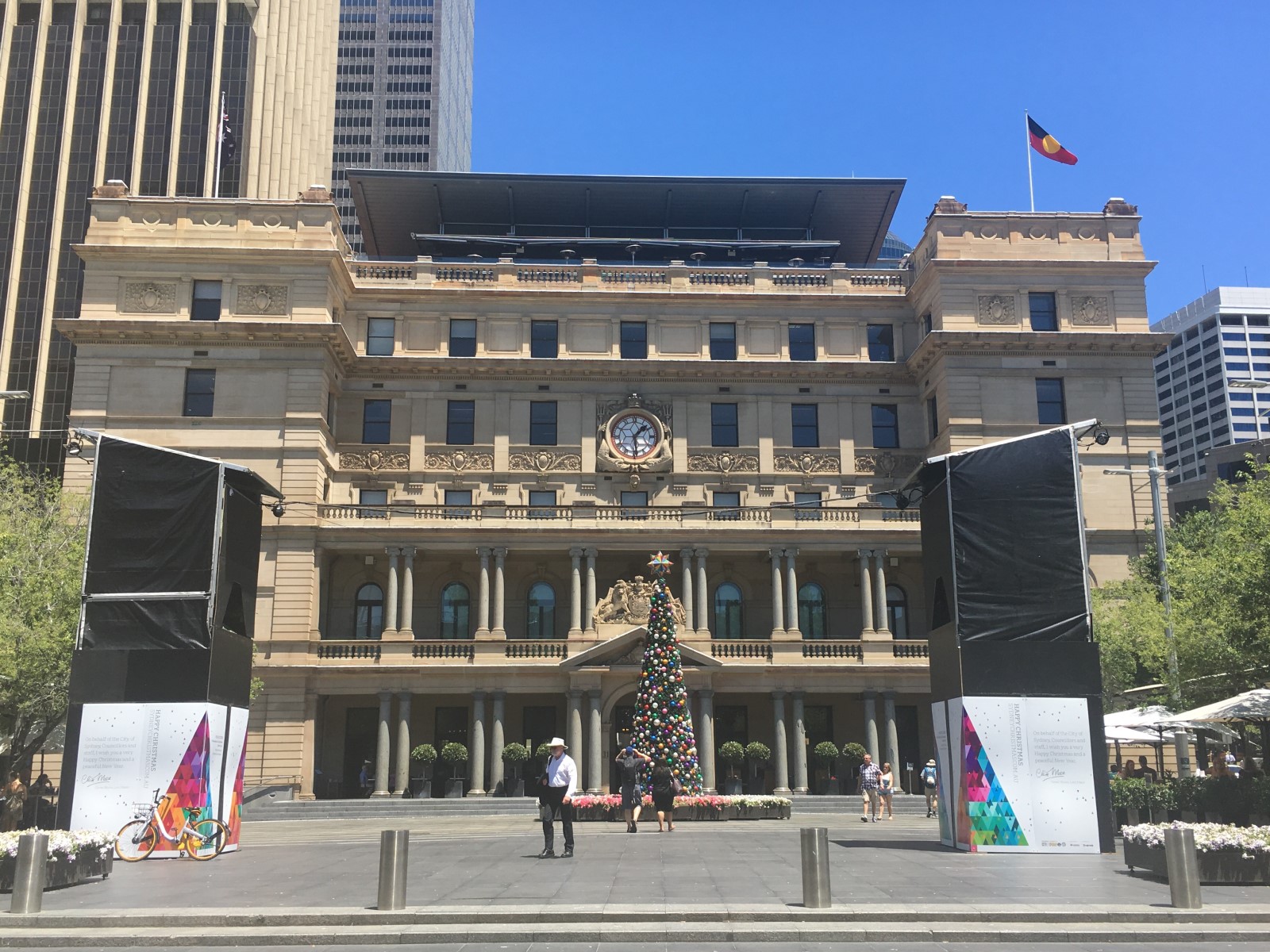 April 1, 2019
Australasian Law Awards - Finalist
It has been a big week for Massons! We are excited to be nominated as a finalist in the 2019 Australasian Law Awards "Law Firm of the Year (1-100 Lawyers)" category.  Thank you to all of our amazing staff and valued clients for helping us to achieve this recognition.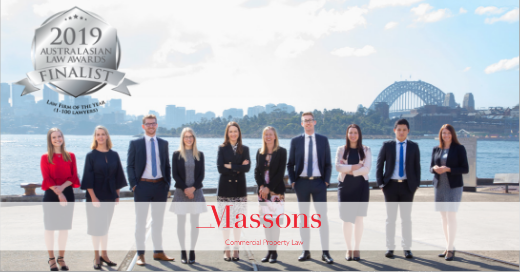 March 28, 2019
Rachael Bass - LawyersWeekly '30 Under 30' awards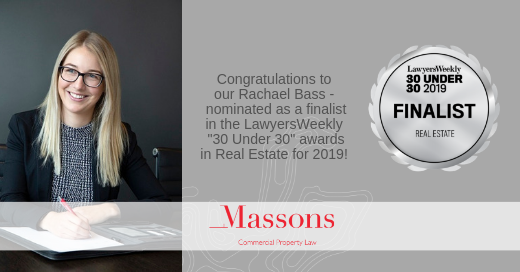 March 26, 2019
Jodie Masson - Best Lawyers® in Australia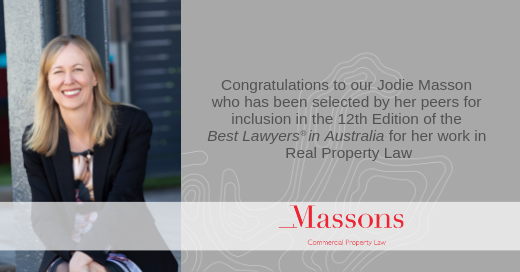 March 22, 2019
Location or amenities: leveraging the benefits of your commercial listing
To assist in leveraging the benefits of commercial listings, the REINSW has recently published an article in which our Ole Mitrevski provides some insights into what businesses prioritise when looking for commercial space
Read the article here – Locations or amenities: leveraging the benefits of your commercial listing
February 15, 2019
Sale of freehold at Chifley Plaza & Tower
Well done to the team in getting this very significant deal through to its successful conclusion at the end of last year! Special shout out to Jodie Masson, Ben Malone, Rachael Bass and Nicole Caryofyllis for all their hard work. We really value the opportunity to work with such great clients and such a landmark asset. Hopefully 2019 will bring us some more opportunities to work on deals like this…
https://www.lawyersweekly.com.au/sme-law/24775-sydney-s-2-chifley-square-sees-freehold-sold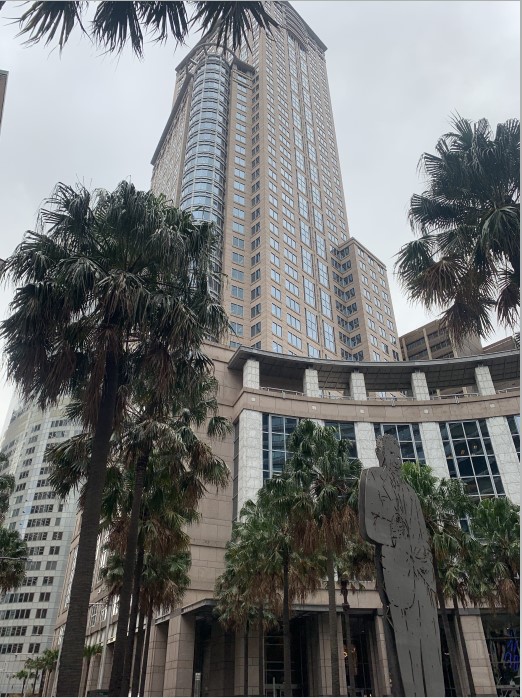 January 16, 2019
Adverse Possession
Our very own Ben Malone recently appeared on ABCNews24 last week chatting all things "adverse possession".  This was a hot topic in the press following a very interesting (and unusual) adverse possession case relating to a property in the Inner West in NSW (see article in the link below for more details):
Sydney property developer awarded home under squatting laws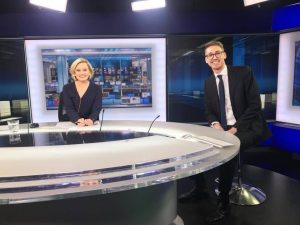 November 5, 2018
Doyle's Guide - 2018
We are delighted that Massons has been listed in the Doyle's Guide of "Leading Property & Real Estate Law Firms – NSW, 2018 and that both of our partners, Jodie Masson and Leisha de Aboitiz have been listed as "Leading Property & Real Estate Lawyers – NSW, 2018". Doyle's Guide is compiled using "online peer-based surveys as well as extensive telephone and face to face interviews with clients, peers and relevant industry bodies" so a big THANK YOU must go out to our wonderful clients and our respected peers in the legal industry – thank you!
http://doylesguide.com/leading-property-real-estate-lawyers-nsw-2018/
http://doylesguide.com/leading-leasing-lawyers-new-south-wales-2018/
http://doylesguide.com/leading-property-real-estate-law-firms-nsw-2018/
April 23, 2018
Ben Malone - Law Society of NSW Property Law Committee for 2018
April 20, 2018
Ole Mitrevski - 500 Women in Property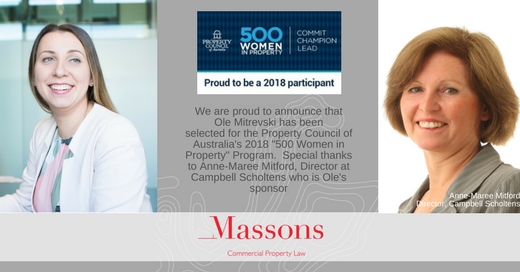 April 20, 2018
Massons - Finalist in the Australasian Law Awards 2018 – Boutique Firm of the Year
Massons is pleased to announce that it is a finalist in the 2018 Australasian Law Awards for Boutique Firm of the Year.
Partner, Leisha de Aboitiz, said that 'this is a reflection of all the hard work carried out by the team at Massons and also to our valued clients for entrusting us to act in their property transactions.  We have set out to achieve a reputation as a firm which provides a specialised service to its clients and our nomination as a finalist in this category is a wonderful recognition of that achievement.'
Winners of categories in the Australasian Law Awards will be announced in May 2018.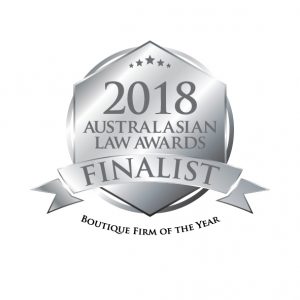 March 27, 2018
Specialisation the rising giant in Australian law
Massons partner Leisha de Aboitiz has responded to calls from Lawyers Weekly to identify the major trend impacting the Australian legal sector.
Ms de Aboitiz said specialisation was the 'rising giant' in Australian law.
"There is an increasing number of breakaway firms who are responding to client demand for specialist knowledge. While this has seen a rise in boutique offerings, it is occurring at all levels in the legal market. For example, there are a number of global and national firms who have either re-structured around core practice areas, or who have entered the Australian market with the express intention to focus on a particular industry or discipline," she said.
"With large global firms developing core practices and trimming down the non-core practices which have more of a local (and less of a global) focus, the market for boutique specialist firms is growing and the cross-referral network for reputable specialists is growing as a result."
Ms de Aboitz said factors driving specialisation include the rise of artificial intelligence, increased demand from in-house legal teams and clients being more willing to hand pick the right team for the right advice.
See the full article here.
August 9, 2017
Changes to ATO clearance certificate regime
The Government has announced important changes to the ATO clearance certificate regime (foreign resident capital gains tax withholding rules):
the ATO clearance certificate regime threshold is being reduced from $2m purchase price to anything >$750k purchase price
the foreign resident capital gains tax withholding rate will be 12.5% (currently 10%) – (this is the amount that the purchaser must withhold if the clearance certificate isn't provided)
The change only applies to contracts entered into on and from 1 July 2017. – Ben Malone. 
May 15, 2017
Ben Malone - '30 under 30' Award Finalist
Our Senior Associate, Ben Malone, has been named as a finalist in the prestigious Lawyers Weekly '30 under 30 Awards' for Construction and Real Estate.
Now in its fifth year, the 30 Under 30 awards programme recognises young lawyers striving for professional excellence within their specific practice area.
William Magee, publisher of Lawyers Weekly, said: "Lawyers Weekly has seen an overwhelming response during the submissions phase. For those who have made it to the finalist stage, congratulations, you have secured your place amongst Australia's top young lawyers."
Ben has been with our firm since its inception, acting on significant real estate transactions for a broad range of clients across Australia. He is drawn upon regularly for his deep knowledge of property law.
We're delighted to see him recognised by his peers and clients for his outstanding and diligent work.
The category winners are due to be announced on Friday, 23 June 2017.
May 9, 2017
Inclusion in Best Lawyers® 2017
Congratulations to our Partner, Jodie Masson, who was recently selected by her peers for inclusion in The Best Lawyers in Australia 2017™ in the field of Real Property Law. Best Lawyers® is the oldest and most respected peer-review publication in the legal profession. It strives to ensure that a listing in its publication signals not only legal expertise, but also, ethics and professionalism of the highest calibre.
April 7, 2017
Boutique Firm of The Year - Finalists
We continue to be both energised and humbled by the support we have received from the Australian property sector since our establishment in July 2016– support which has led to us being named as an Innovative Law Firm in the 2016 Australasian Lawyer Awards, and a finalist in the 2016 Women in Law Awards in the category of 'boutique diversity law firm'.
Incredibly, thanks to the nomination of our clients, we have now been named as a finalist in the 2017 Australasian Lawyer Awards in the category of Boutique Firm of the Year. This is not only an honour but confirmation that our decision to break from the traditional law firm model was the right one. We proudly work for some of Australia's best known companies, and deliver a service that is built on an ethos which favours relationship building and excellence over billable hours. Our team is passionate about property and delivering outstanding solutions for our clients, and as a firm we are determined to prove that a happy, diverse, team-based culture is a better path to profitability and staff retention.
March 22, 2017
Retail strata owners: are you prepared?
Our Partner, Leisha de Aboitiz, has provided a warning that retail strata owners need to be aware of how legislative changes being applied in NSW to the Strata Schemes Management Act and the Strata Schemes Development Act will impact them. To learn more, read Leisha's insights in the December edition of Shopping Centre News here.
December 8, 2016
How the strata scheme renewal process works
Leisha de Aboitiz and Leila Packett have shared their insights into one of the most talked about features of the new Strata Schemes Development Act 2015 NSW with members of the Real Estate Institute of NSW. To find out how the new regime affects you, and in particular how the sale of strata schemes can now be undertaken with a majority vote, visit the REINSW website here.
December 1, 2016
Strata schemes must act now
The team at Massons has issued a strong recommendation to all strata schemes that changes to strata by-laws not yet registered should be lodged for registration before the new reforms begin.
Strata schemes should take urgent action to lodge changes to by-laws (approved by special resolution) for registration before the new strata reforms begin on 30 November 2016. Click here for more information.
November 22, 2016
It's all about retail
On 12 November, changes to the Australian Consumer Law took effect, voiding "unfair terms" in certain small business contracts. In particular the ACCC has taken issue with broad indemnities, termination and make good clauses in retail leases.
On 25 November, the QLD retail shop lease reforms finally start – new tenant termination rights and landlord disclosure obligations to name a few. – Ben Malone, Lawyer. 
November 18, 2016
Strata schemes development regulations published
The new Strata Schemes Development Regulation have been published…just in the nick of time, with 30 November fast approaching. We're pleased to see a measured approach taken to the valuation piece in the implementation puzzle. – Leisha de Aboitiz, Partner
November 8, 2016
Power in numbers!
Twenty-five neighbours recently grouped together to sell their properties for a premium. This type of activity is happening all over Sydney and seems to have no signs of slowing down. It's important to appoint a good team that can go in and bat for you – good luck to Sam Brewer and team with the proposed sale. – Ben Malone, Lawyer.
August 8, 2016
Foreign resident capital gains
The application forms for the foreign resident withholding tax are now finally out to the extent that these are relevant for assets you intend to sell after 1 July 2016 or if you simply want to be 'sale ready'). We presume that most of our clients will look after this internally, but please let us know if we can assist in any way. – Jodie Masson, Partner
May 14, 2016
Gaming Machines Act
Are you an operator of a gaming machine? Amendments to the Gaming Machines Act 2001 commenced in March which provide some guidance as to the future of the Centralised Monitoring System (CMS) once the current licence expires in November. The CMS monitors gaming machines and one of its functions is to calculate the gaming machine tax. Given that the new CMS licence will be granted via a tender process, it will be interesting to see if any cost cutting measures will actually be passed onto operators. – Ole Mitrevski, Senior Associate.
May 2, 2016
Registration fees increasing
For those registering documents at Land and Property Information (LPI) in NSW, be aware that there are fee increases (and some decreases) on and from 1 July 2016. Some of the changes aren't significant (eg lease registration will increase from $109.50 to $136.30) and there are probably bigger issues to deal with in most transactions, but it might be worth thinking about timing of registration, particularly if you are registering a lot of documents. It all adds up, right? Requisition fees will also be charged from 1 January 2017, making registration of non-compliant documents much more costly. – Jodie Masson, Partner.
May 2, 2016
Fire at Whitsunday Shopping Centre
Heard the news on Monday about a major fire at the Whitsunday Shopping Centre at Cannonvale, near Airlie Beach. It's tragic for all those who work and shop there and it is a good reminder for landlords and tenants to not gloss over damage and destruction clauses when negotiating leases – these types of events do happen and it's important to have an agreed process in place to avoid a dispute at a time when you can least afford it!. – Jodie Masson, Partner.
April 6, 2016
Diversity in law firms
This article is interesting but, having interviewed graduates over many years for large law firms, this is not where the problem lies. The graduate intakes that I saw comprised smart, talented young people from different cultural backgrounds, genders (in fact, firms had to work hard to get male candidates given the large number of female graduates), sexual orientation, universities, schools etc. But they don't stay. More initiatives are necessary (not just token 'committees') which support diversity in senior levels, because that's where the real problem is. – Jodie Masson, Partner.
April 1, 2016
PPSR and property sales
Do property lawyers 'get' Personal Property Security Register (PPSR)? Recently, trying to settle the sale of a large development site, we came across lawyers demanding PPSR releases (in addition to the usual releases). The settlement was rescued when we found another lawyer who understood. Under the old law, lawyers needed to get Form 312s on settlement. Under PPSR, if you are selling land and fixtures only, it doesn't apply. What is a 'fixture' can be tricky, and we are paid to be cautious, but if lawyers keep demanding items at settlement that are "standard", but completely unnecessary, then we just waste our clients' money. – Jodie Masson, Partner
April 1, 2016